What Is Esthetics?
Esthetics is a branch of philosophy dealing with the nature of beauty, art, and taste and with the creation and appreciation of beauty. A person can enhance his or her beauty by not only knowing how to take care of the face and hair, but also by being concerned with posture and beauty.
Description of Course:
The Esthetics course offered by Rudae's School of Beauty Culture consists of 900 hours of training designed to prepare the student for an entry level position as an esthetician. Rudae's makes sure all students have the comprehensive training that will qualify them to pass the Indiana State Board of Cosmetology examination. This curriculum is approved by the Indiana State Board of Cosmetology Examiners in order to provide the esthetics industry with qualified graduates.
The State of Indiana requires 700 hours in order to obtain a license in Esthetics. To better prepare the student for the work force in this field Rudae's has added hours to the program to better educate the student's in the areas of Makeup, Physiology, Advanced Machines, Intro to Skin Care, Salesmanship, Marketing and Retail.
Esthetics Course Hours
Chemistry of Skin: 40 hrs
Physiology and Histology: 75 hrs
Bacteriology, Sterilization, and Sanitation: 35 hrs
Introduction and Operation to Skin Care Machinery: 80 hrs
Advanced Machines: 120 hrs
Introduction to Skincare: 55 hrs
Skin Care: 155 hrs
Makeup: 60 hrs
Hair Removal (Superfluous Hair): 70 hrs
Introduction to Advanced Spa Techniques: 25 hrs
Safety Precautions: 20 hrs
Professional and Personality Development: 20 hrs
Management: 20 hrs
Salesmanship, Marketing, and Retailing: 45 hrs
State Statute and Rules: 10 hrs
Discretionary Hours: 70 hrs
Total Curriculum Hours: 900
Esthetics Program Cost
900 Hours Tuition @ $11.90 per hour: $10,710.00
Registration fee: $100.00
Application fee: $100.00
Kits/Books/Supplies: $1,998.00
Technology Fees: $249.00
Total Cost: $13,157.00
iPad with Kit: $329.00
Total Cost with iPad: $13,486.00
On-Campus Housing: Not Offered
* The fee for our student kit, books, and the mannequin is non-refundable after they have been issued to the student. An extra fee will be charged to all Esthetics students who fail to complete their 900 hours of training within the allotted contract dates. This charge will be applied only after the contract ending date. An administration fee of $150.00 will be charged to any student who discontinues prior to graduation with the exception of extenuating circumstances.
Class Schedules For Esthetics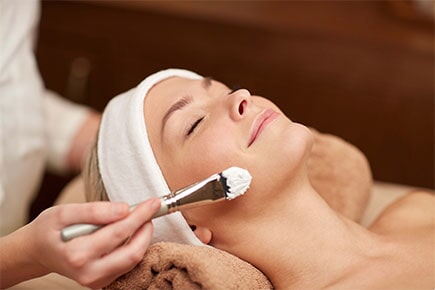 30 Hours Per Week Program: 8 Months
Tuesday – Saturday 9:00am – 3:30 pm
25 Hours Per Week Program: 9 Months
Tuesday – Saturday 9:00am – 2:00pm
30 Hours Per Week Night Program: 8 Months
Monday – Friday 3:00pm – 9:30 pm
20 Hours Per Week Night Program: 11 Months
Monday – Friday 5:30pm – 9:30pm
Consumer Information:
The U.S. Department of Labor's Standard Occupational Classification (SOC) name and code for Cosmetology is: 39-5094.00 Skin Care Specialists. Please visit the Department of Labor's website at the following link to obtain information on this field of occupation.
http://www.onetonline.org/link/summary/39-5094.00
Along with the Department of Labor the National Center for Education Statistics provides data concerning esthetics under the following CIP code: 12.0409. Use this code at the following link.
http://nces.ed.gov/ipeds/cipcode/Default.aspx?y=55
You can also access statistical data about our schools on the College Navigator website at the following link.
http://nces.ed.gov/collegenavigator
Pre-Enrollment Information
Esthetics Program:
91% or 32 of the 35 students in this program scheduled to graduate in 2021 went on to graduate;
78% or 25 of the 32 students that graduated in that year have found jobs in the industry; and
94% or 29 of the 31 students of the program taking the state board exam in 2021 passed the examination.
According to the National Accrediting Commission of Career Arts & Sciences, Inc. based on our Annual Report our official rates for all programs are:
Completion Rate: 79.55%
Employment Rate: 78.57%
Licensure Rate: 92.54%
Physical Demands of this profession are:
Long work shifts on your feet. Work hours include weekends and evenings.
You may not get a break or lunch hour. Because of the repetitiveness of some movements, Carpel Tunnel is a possibility.
You work with hazardous materials such as: cleaning products, perms, bleaches, color and other chemicals.
Also, while you are in school, it will make a financial demand such as: Lunches, Child care, & Fuel for transportation.
Safety Requirements
Use proper ventilation to draw air away from you. Some fumes are harmful.
Have a designated smoking area.
Store products in closed containers and prevent spills and leakage. Store products in adequately ventilated area with moderate temperatures. Containers must identify product.
Have a proper first aid kit readily available.
Know the location of your inspected fire extinguishers and how to properly use them.
Discard materials properly.
Minimize your exposure to hazardous chemicals.
Isolate the chemical mixing to one area such as a dispensary.
Use personal protection equipment such as gloves, eye protection and dust masks.
Indiana Licensing Requirements
Esthetician: Each student must complete the following:
Complete 700 clock hours of training.*
Complete the State practical book requirements.
Satisfactorily pass all written tests with a 75% or higher.
Pass all practical exams with a 75% or higher.
Pass the school final written exam with a 75% or higher.
Satisfy all financial responsibilities to the school.
*Rudae's School of Beauty Culture requires additional hours for the Esthetics program over what is mandated by the state of Indiana. This is so that Rudae's can provide additional education in areas the college feels is necessary to better prepare our students for work in the salon environment. See above for the complete breakdown of course hours, this information is also provided to each student during orientation.
Compensation that a successful graduate may reasonably expect.
According to the US Bureau of Labor Statistics employment and wage statistics last compiled in April 2023, estheticians in the United States earn an hourly wage of $12.28 to $38.13.
Annual salaries range from $25,540 to $79,300. A full-time esthetician earns a median income of about $18.30 per hour, or $38,060 over the course of a year (2080 hours).
Regulatory Oversight Restrictions
The State of Indiana requires that each student obtain a license from the State to become employed in Indiana. For information on factors that may prevent a student from obtaining such a license please visit the Indiana Professional Licensing Agency website.
Please refer to the State of Indiana Board of Cosmetology and Barber Examiners Licensure Laws and Regulations: https://www.in.gov/pla/files/2019%20SBCBE%20Statutes%20and%20Rules.pdf